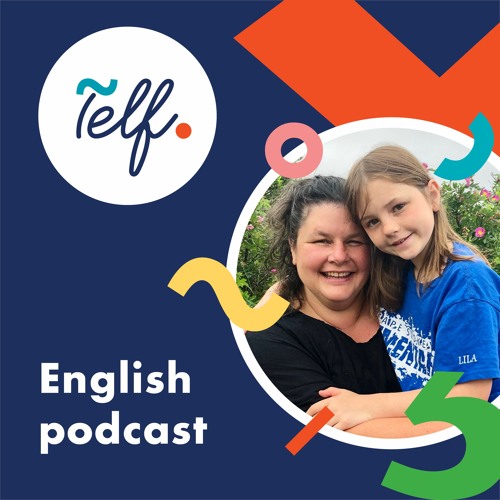 Kersti and Lila - Episode 2 Intro
Telf Enghlish Podcast - What are the differences between British and American English?
Ve druhé epizodě našeho anglického podcastu se podíváme trochu blíž na rozdíly mezi britskou a americkou angličtinou. Seznámíme se s holčičkou jménem Violet a její novou učitelkou matematiky Alice. Dále zjistíme, čím by chtěla Violet být, až vyroste a také čím se živí její tatínek.
Transkripce podcastu
Good morning
Good morning
How are you?
I am very well thank you, how are you?
I'm fine, thank you.
Are you Louisa?
No
Oh, are you Danielle?
No
Hmm, is your name Natasha?
No
Okay, may I ask…who are you?
Oh, I'm so sorry, my name is Violet.
Oh, of course. I'm sorry. We changed the schedule a bit and I am not wearing my glasses.
Welcome, Violet.
It is a pleasure to meet you.
Likewise.
And how old are you?
I am 10 years old.

What is your name?
I'm Dr. Cunningham, but please call me Alice. You will refer to most of your teachers as Ms. or Mister, but since I am also the guidance counsellor, I like to give pupils the option to call by my first name.
Hi Alice, it's nice to meet you.
You remind me of my English teacher.
She is from Scotland and always calls us pupils.
The rest of our teachers call us students.
Ah, that makes sense – I learned British English as a child, so I still use the word pupil, but I have noticed that most teachers around here call their young learners students.
Let's get started then. I have a few general questions to begin.
Okay
Where are you from Violet?
I am from a small town called Bridgewater. It is in Nova Scotia, by the Atlantic Ocean.
Ah, I grew up by the sea as well.
Oh, really, where are you from?
I'm from Copenhagen, but I live in Canada now.
Do you like it here?
Oh yes, very much. I love the space and nature here. The mountains and forests are incredible, and I especially love the oceans. All three of them.
I have never been to the Arctic Ocean,
but my friend, her name is Qimmiq, tells me stories about it.
She is from Nunavut, way up in the north of Canada, but she lives in Nova Scotia now.
I saw the Pacific Ocean once when we visited British Columbia.

The Atlantic is my favourite though. Maybe because I live in Nova Scotia.
They call Nova Scotia "Canada's Ocean Playground".
"Canada's Ocean Playground", that's nice.
I suspect you have a wonderful sense of adventure Violet. That is very important.
If you are comfortable and feel ready, let's talk a little about what brings you here.
Okay. I am ready.
Tell me then, Violet, why do you want to come to ballet school in Toronto? It will be very different to live in such a big city.
I love to dance.
It is all I do.
Well, I love to swim in the ocean too,
but even when I go swimming, I dance in the water.
I like to tell a story through movement and to be creative.
I want to be a ballet dancer when I grow up.
Do you know that it is a very difficult profession?
I know. My father is an actor, which is hard too. His schedule is very busy.
He says that it is even harder to be a dancer, but I want to try.
I am a very hard worker.
Okay. You have a good attitude. And do you like school? It is very important that you keep your grades up as well.
Yes, I love school! My favourite subjects are math and art.
I can tell you are Canadian. I like maths too. In fact, I teach one of the maths courses here at the ballet school.
Maths – I've never heard that. Why do you put an 's' on the end?
I like your questions Violet. It is good to be curious about everything.
Your listening skills are excellent.
Well, 'math' or 'maths' is just short for mathematics. In Canada and the US, people use the word math, while in the United Kingdom, Ireland, Australia and other English-speaking places, the word 'maths' is more common.
Right, and since you learned British English, you say 'maths'. That makes more sense. I like it!
Yes. It was very, very hard for me to get my tongue around it at first. But I practised and practised and practised and now I can say 'maths'.
Maths.
Now, your schedule at the ballet school will be very busy, because you will have all your academic courses as well as two to four hours in the studio every day. It takes a lot of focus and hard work.
Oh, I love hard work.
I know I talk a lot, but I can focus when I put my mind to it!
That is good to hear Violet. Oh dear, I think it's time for you to see the physiotherapist, Ms. Véronique, so we have to finish our conversation for now. We don't want to keep her waiting. Our schedules are very busy too, but I will talk to you again soon, okay?
Thank you Alice. It was nice to meet you.
Um – may I ask, where Miss Véronique's office is?
Of course! Good question! Her office is the second door on the right. The purple door.
Oh, don't forget to take your water bottle.
Oh, silly me. That's mine. I forgot. It's a new water bottle. Thank you Alice. See you soon.
You're welcome Violet. Have a great day.
Bye.
Bye-bye.
Cvičení k epizodě 2
* Incredible! Wonderful! Excellent! Těmito přídavnými jmény vyjadřuje Alice svoje nadšení a pozitivní přístup. Znáš nějaká další anglická slova, která mají stejný nebo podobný význam? Zkus jimi popsat něco, z čeho jsi byl/a v poslední době opravdu nadšený/á. Svou odpověď nám můžeš poslat na edu@telf.cz.
* And what about you, do you have a dream? What does it require to realize yours? Svou odpověď nám můžeš poslat na edu@telf.cz.