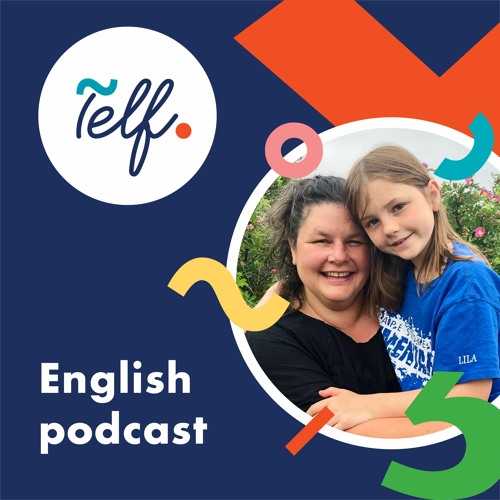 Kersti and Lila - Episode 3 Intro
Telf English Podcast - How does Lila spend her free time?
V tomto díle podrobněji zjistíme, jak Lila tráví svůj volný čas, i to, kde Kersti pracuje. Lila má spoustu koníčků, ale tím největším je tanec. O Kersti se zase dozvíme, že pracuje převážně z domu. Ale to není vše! O životě této veselé dvojky v Novém Skotsku toho dnes totiž odhalíme ještě mnohem víc.
Transkripce podcastu
Hi, Lila. How are you today?
I am having a great day. I have the day off today. That is unusual for a Saturday.
Oh, really? What do you usually do on Saturdays?
I usually go to dance class every Saturday.
I see. What kind of dancing do you do?
On Saturdays I do Ballet, Jazz and Lyrical.
Ballet, Jazz and Lyrical. That's a lot.
That's not all. I also do ballet on Wednesdays after school and on Tuesdays and Thursdays, I do highland dancing.
Highland dancing? What kind of highland dancing?
Scottish highland dancing.
Why Scottish highland dancing?
Well, I suppose, because I live in Nova Scotia, which means New Scotland in Latin. There is a lot of Scottish culture in Nova Scotia. My brothers play the bagpipes too.
My goodness, you and your brothers are very busy. Where do you take dance classes?
There is is a dance school not far from my house. It only takes 20 minutes to walk there, or 3 minutes to drive. That's where I go to do ballet, lyrical and jazz. Highland dancing is further away. We have to drive about 35 minutes to Dartmouth for that.
Dartmouth. They call Dartmouth the City of Lakes.
There are a lot of lakes there. Lots of people do kayaking and canoeing there.
Actually, Dartmouth is part of the Halifax Regional Municipality now, but everybody still calls it Dartmouth. Same thing with Bedford and Sackville and lots of smaller communities.
That's right. The City of Halifax, The City of Dartmouth, the Town of Bedford and the municipality of Halifax County amalgamated in 1996 to form the Halifax Regional Municipality. But that is all
just for administration. The people who live in the communities still call them by their individual names.
It does make Halifax seem like a very big city when they are all put together.
You're right. Do you know what the population of Halifax is?
Almost half a million people.
Wow. I guess that is big for Nova Scotia. Almost half of Nova Scotia's people live here, in Halifax, but compared to other cities around the world, it is still quite small.
That's true.
There are almost one million people in Nova Scotia.
And Halifax is the capital city.
I like living in the Halifax Regional Municipality, but I'm glad we live a little bit outside of the city centre.
Me too. Especially since I work from home now. When I have to go to work in the city, I do not enjoy the morning traffic. With all the universities in the city, it is especially busy.
That's what my dance teacher says. She is a student at Dalhousie University. She studies kin – kinis – kinis….
Kinesiology?
Yes, that's it – kinesiology. I want to study dance when I go to university, but kinesiology sounds interesting too. It is the study of how the body moves.
What kind of work do you do?
Right now I do a little bit of everything. I do some tutoring, some proofreading and editing, a little bit of translation and I also work for Parks Canada. Sometimes, I work in theatre too. I studied acting at university.
That sounds like a lot too.
It's not too bad. I find a balance and I like my work. Working from home saves me a lot of driving time. I can't do all of my work from home, but over the winter, it is usually possible. Not many people visit the park where I work in the winter and most of my theatre work also happens in the summertime.
It's good that you have Mondays off at least.
Oh, I do gymnastics on Mondays.
Gymnastics! Oh boy. And is that far away?
Yup, it's about 45 or 50 minutes by car. My gymnastics club is in Dartmouth too, but the very edge of Dartmouth. And after gymnastics, I go to piano, but that is on the way home, in Bedford.
Good heavens, when do you go to school?
Every day. Monday to Friday.
Just like all the other kids.
I take the school bus to school and it is very close to our house.
It takes less than 5 minutes to get there.
That's good. How do your parents get you everywhere else?
I don't know, but they do. My mom goes to the grocery store while she's waiting for me and my dad sits in the car and plays guitar.
Well, at least they find something useful to do with their time while they wait.
Do you have any spare time at all?
Oh yes. Fridays and Sundays are free. But not for my parents, because my brother, he does horseback riding on those days.
I see. And where does he go horseback riding?
Towards the airport – about 45 minutes from home.
Wow. Do you like all the activities that you do?
Oh, yes. I also want to do horseback riding and swimming, but my mom says that will have to wait until the spring or summer.
And what do you like to do in your free time?
I like to draw and ride my bike, and build forts in the living room and read. We have lots of books. I love to play games too. Board games and card games. And I like to do puzzles and watch TV. I don't like cleaning my room though.
Who does?
I imagine your mom wants a drink by the end of the day.
Hee hee. She does like to have a glass of wine after supper. She says it is very important for her mental health. I think she just likes wine.
Me too. I think your mother and I must have a lot in common. What is your favourite drink?
Milkshakes – all the way. I love milkshakes. Especially chocolate ones.
Me too. Maybe even more than wine. I think everybody likes milkshakes.
Who wouldn't?
Do you want a milkshake?
We have a milkshake maker here.
I know how to make them.
That would be lovely. Thank you very much. What can I do to help?
Come on, I'll show you…
Okay
Cvičení k epizodě 3
* Lila dělá spoustu různých aktivit. A co děláš ve volném čase ty? Svou odpověď nám můžeš poslat na edu@telf.cz.
* Lila does a lot of different activities. How about you? What do you do in your free time? Is there anything you would like to take up? Svou odpověď nám můžeš poslat na edu@telf.cz.
* How about you? Do you have any guilty pleasures that help you get through the week? Svou odpověď nám můžeš poslat na edu@telf.cz.