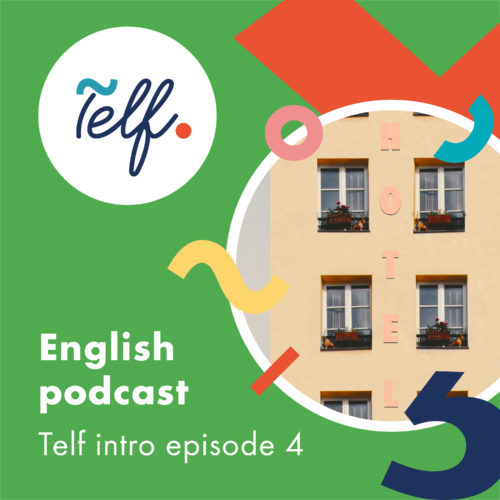 Kersti and Lila - Episode 4 Intro
Telf English Podcast - How to check into a hotel in a foreign language?
Ubytovat se v hotelu pomocí cizího jazyka není žádná legrace. V této epizodě našeho podcastu se ale dozvíme jak na to! Jak si říct o pokoj s balkonem, jak zjistit, kde v hotelu najdeme bazén nebo jak vyměnit svůj pokoj za větší? To vše a ještě víc se dnes společně Kersti a Lilou naučíme.
Transkripce podcastu
Good afternoon young Lady. Welcome to our hotel. How may I help you?
Hello, my family and I have a reservation here.
Wonderful. We're glad to have you visit. Where is your family?
Oh, they are just around the corner. You can see my mother peeking out. She thinks I don't see her. She said I can register all on my own.
Well, then. Let's find your room! Do you have your confirmation number?
Yes, I do. It is 5-3-7-7-9.
Thank you. And what is your name?
I'm Rose. Oh – and our family name is Goldenheart. Because we have hearts of gold!
Haha. And a good sense of humour too! I can tell you have a kind and generous heart, Miss Rose Goldenheart! Okay – I see here, we have your family booked for two double rooms. Are there still five of you travelling?
Yes, my mother, father, two brothers and me.
Lovely. The two double rooms are side by side, but we just had a last minute cancellation, so, by a stroke of luck, I now have our family suite available with a king sized bed, and two single beds and a double sofa bed in the living room. May I interest you in that? It is a spacious suite with two televisions, a small kitchenette and a balcony overlooking the river.
Oh yes, that sounds perfect, but how much is the family suite?
Well, in fact, it is a little less than the two double rooms together. Each double room is $120 per night. How is your math?
Oh, I love math.
That means two double rooms at $120 each are $240 – plus tax – I don't know exactly how the tax works, but I always hear people say $50 plus tax, $89.99 plus tax, $240 plus tax….
My father grumbles a bit when he hears about the tax.
Haha. I think we all grumble a little over the taxes. You're absolutely right! There is a 15% sales tax and 2% hotel tax, usually, but since we are a smaller property with fewer than 10 rooms, we do not need to charge the hotel tax, so the total for 2 double rooms is 240 plus 15% sales tax, which comes to…
Wait, I can figure it out…10% of 240 is 24 – you just have to take off the zero, and 5% is half that, which is 12, so 24 plus 12 is 36. That means the room total is $240 plus $36, which makes…ummm…$276.
Wow, you certainly are a math wiz! I usually just use my calculator! And the good news is, the family suite is $220 per night, so you're saving
$20…plus tax!
Exactly. With tax, your total for the family suite is $253 per night.
We'll take it!
Are you sure that is alright with your family?
Oh yes, that's what my mother wanted, but when we made the reservation, it was not available. I am glad it's available now. She will be very happy. She said all she wants to do on vacation is have some peace and quiet and sit in the sun by the river and read a book. It's a win-win for everyone! My mother can sit on the balcony and read her book, there are 2 TVs so I can watch something different than my brothers, and Daddy can make supper and breakfast in the little kitchen, because he doesn't like going to restaurants.
Well, alright then. I have moved your reservation to the family suite…for 3 nights. Is that correct?
Yes, 3 nights please.
Oh – does the suite have a private bathroom?
Of course! It is my favourite bathroom in the whole hotel with a beautiful, old claw foot tub and shower and a window that looks out over the forest.
Perfect!
Here is your key. Your room is on the third floor.
Oh good, I like to be a little higher up, so I can see everything happening down below. Just like a bird in a tree. But, could we please have two keys? My father is an early bird and my mother is a night owl, so it is easier if they each have a key – then nobody gets locked out!
Most certainly. Here is an extra key.
And how do we get to the room?
Just follow the red carpet to the end of the hallway and you'll see a lift to your right. The stairs are just past the lift, if you prefer to take the stairs. Your room number is 3-0-7.
Great. I'm sure my parents will want to take the elevator – uh – lift – I call it an elevator, because I grew up in Canada, but I know it is also called a lift in British English. You must have learned British English.
You're very perceptive! I just prefer the word "lift" – I also grew up in Canada, but have many British friends and I suppose when I lived in Europe for a few years, I got used to saying "lift" rather than "elevator". Besides, I grew up in such a small community, that there were no elevators around.
That makes sense. Anyway, I think my parents will take the luggage up in 'the lift', but my brothers and I like the stairs.
Sounds like a plan. Do you have a lot of luggage? Would you like a luggage cart to bring it in?
Oh, that would be nice. We each have a daypack and a little suitcase, but there are 5 of us, so I think a luggage cart would help. Thank you.
My pleasure.
Oh, and do you have a map of the trails in the park? I love exploring.
Certainly. Here you go. This shows the walking trails in the park, the swimming areas, including beaches and swimming pools, and the highlights of the town like shops, restaurants and other points of interest. And if you stop at the town visitor center just down the road, they will give you a special kids' map to help you discover all the cultural treasures of the town! I'm afraid I don't have any treasure maps left here.
Oh, I love treasure hunts. That sounds great. My brothers and I will go pick up the maps from the visitor center while my parents settle in. They're a little tired. We tire them out sometimes. We have a lot of energy and make a lot of noise.
I can see you have a lot of energy. Well, I think that's all that I need from you. Do you have any other questions?
Yes – the most important one of all – is there a swimming pool here at the hotel?
Oh yes, I'm sorry, I forgot to mention that. We have an outdoor pool behind the hotel. You'll see it from your balcony. Just take the back door past the lift. We lock the back door at 8 pm, but until then you can come and go as you please. There's also a fire pit out back if you'd like to sit out in the evening. You can enter through the front door at any time.
Thank you very much.
Oh – one last thing, what time is check-out? Sometimes it takes us a while to pack up.
Check-out time is 11 am.
Oh perfect. We can do that. Thank you. Have a good day!
Thank you! It was very nice to meet you Rose Goldenheart. Have fun exploring our little town and enjoy your stay! Please don't hesitate to come down and see me if you need anything at all.
I will! Thanks. Bye-bye.
Mom….I did it….we got the family suite….we have maps…and I got two keys…there's an elevator so we can take up the luggage, and an outdoor pool and a fire pit….we're on the third floor…you have a balcony to read your book……..
Cvičení k epizodě 4
* Jak jsi strávil/a své poslední prázdniny nebo dovolenou? Svou odpověď nám můžeš poslat na edu@telf.cz
* What things are essential for you in a hotel room? Svou odpověď nám můžeš poslat na